Extended Trail Rides in Wyoming
Enjoy the best places of the Tetons and Yellowstone on horseback.
Saddle up for a day you'll never forget!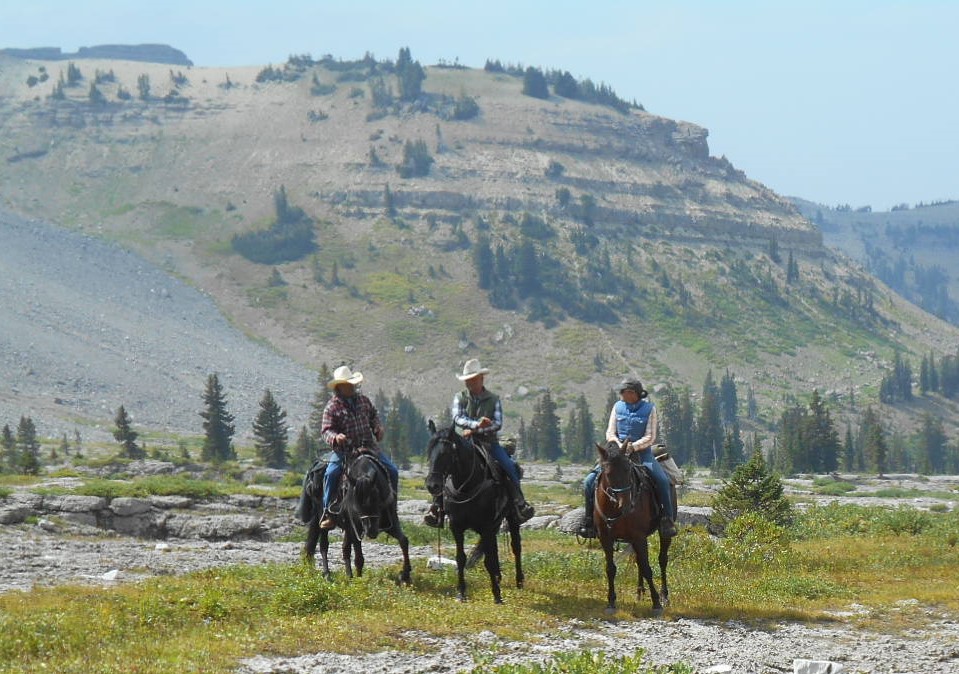 Dry Ridge Outfitters offers full-day extended trail rides in Wyoming, Idaho. Between the Targhee National Forest and the Jedediah Smith Wilderness there are many spectacular destinations to choose from for your horseback ride. Take a cool mountain ride along Badger Creek through lush wildflower meadows or climb high into the wilderness and discover breathtaking views and alpine lakes.
These horseback rides include an experienced guide and the use of our horses and tack. We will find a horse in our string to suit your riding ability. We recommend you have some riding history under your belt. We love children to come along for a ride, but they must be 8 years or older and have some riding experience.
Our Wyoming extended day horseback rides begin late June and continue through mid-September. Take a ride in June and early July through the spring wildflower meadows in the lower country and enjoy beautiful long-distance views of the Teton Range. By mid-July, the snow in the high country will clear and we can start our extended days and be able to go almost anywhere! Click on one of the selections below to read about these trips and see more breathtaking photographs taken along the various trails in Wyoming and Yellowstone. One thing's for sure ... Teton Valley has some pretty spectacular scenery and more than its share of awe-inspiring vistas!
EXTENDED DAY RIDE DATES:
This year we are continuing on our new road by offering more availability for the extended day rides versus the camping/pack trips. These 3-4 full day trips will begin in late June through September offering consecutive extended day rides. The groups will be limited to 8 riders. Everyone should be at least intermediate level riders. All riders will be responsible for their accommodations and lunches and we will be responsible for showing you some awesome areas of the Tetons. Ride 1 day, 2 days or more! It's your choice!
See below the dates and spaces available. This is just the beginning of our booking season so if you don't see a date that works for you please or perhaps you'd like to ride more than 3 consecutive days, email Deb and she will see if a different date accommodates our calendar. Let us know your travel dates and we will do our best to get you up in the Tetons on horseback.
Rides might include: Tin Cup, Crow's Nest-loop, Green Lake, Decoster Trail, Teton Canyon, Survey Peak, Hidden Lake... All beautiful!
JUNE 2024: We will begin offering the full day rides around June 17th. If you are coming to the area before mid-June we do offer 1/2 day rides for all levels of riders.... So, pick a date that works for you and let's go riding!!!
JULY 1-3, 2024: 8 spaces available
JULY 8-10, 2024: 8 spaces available
JULY 11-13, 2024: 8 spaces available
JULY 22-25, 2024: 8 spaces available
AUGUST 28-30, 2024: 8 spaces available
____________________________________________
Kevin & Deb are back to their winter jobs in September (they drive school buses) so our day rides are limited to the weekends and occasional weekdays. Let us know what dates work for you and we can check our calendar.